Neighbours Worldwide Fanpages
Welcome to the longest running Neighbours fan site in the world!
In 1985, Neighbours was launched on Australian television, a daily drama series which aired every weekday in the early evenings. The show centred around the lives of three households living on Ramsay Street, a cul-de-sac in a fictional Melbourne suburb.
By the end of the 1980s, the show had been seen in over sixty countries, and tens of millions of people around the world were regularly watching the daily activities of the Ramsay, Robinson and Clarke families. The show enjoyed phenomenal popularity in the United Kingdom where more than a quarter of the population became hooked on the mix of drama, comedy and sunshine that was unlike anything seen on any show before.
Over the next three decades, the show's run continued making it the longest running drama series on Australian television and one of the country's most successful media exports. It served as a training ground for new talent and many of the show's actors went on to Hollywood stardom or became icons in the music industry.
In 2022 it was announced that production was to end after 37 years. In the last week of July, millions of viewers in Australia and the United Kingdom watched the very last episodes which brought back many characters from the past and perfectly and emotionally brought the curtain down on the show that had been in their lives for so long. The final chapter... or so we thought!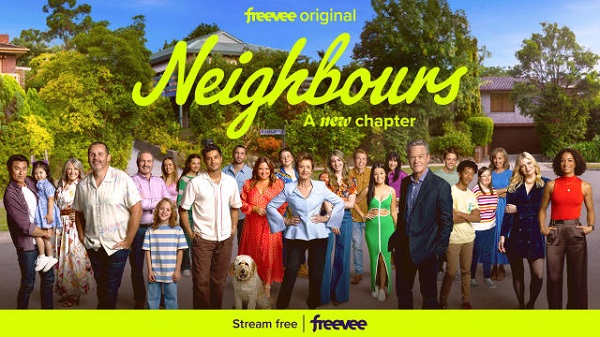 It's back...
Following a landmark deal with Amazon, production restarted on Neighbours in April 2023 with the first episodes in the new chapter of the show added every Monday to Thursday since the 18th of September. The deal will see 400 new episodes made in the first two years and hopefully continue for many more years after that. Additionally hundreds of classic episodes have also been added Amazon streaming services. These comprise many iconic episodes from the early years, plus all of the 2012 to 2022 seasons. Viewers in Australia, New Zealand and Republic of Ireland can also continue to watch Neighbours on traditional TV channels as listed below.
See our 2023 Season episode guide for summaries of the new chapter so far
Where to watch Neighbours...
Australia
On TV: Monday-Thursday
16:00-16:30 on 10 Note new time
18:30-19:00 on 10 Peach
On TV: Tuesday-Friday
09:30-10:00 on 10 Neighbours Encore - repeat of previous day's episode
Canada
New Zealand
On TV: Monday-Thursday (one episode behind Australian broadcasts)
17:30-18:00 on TVNZ 2
18:30-19:00 on TVNZ 2+1
Republic of Ireland
On TV: Monday-Thursday (same day as Australian broadcasts)
14:00-14:30 on RTE One
18:00-18:30 on RTE 2
South Africa
United Kingdom
Online (New episode available from 0700 on same day as Australian broadcasts)
United States
---
If you have any suggestions and comments about this site, E-Mail us at: comments@ramsay-street.com.
Neighbours is produced by FremantleMedia Australia for Network Ten Australia
and is a copyrighted trademark of FremantleMedia Australia Pty. Limited/FremantleMedia Operations B.V.

Note: This is an 100% unofficial site created by fans and is not related to FremantleMedia, Network Ten Australia, Amazon or any other organization broadcasting/streaming Neighbours. To visit the official site, click here.

Neighbours Worldwide Fanpages recognises the copyright of the original owners of all pictures and information used here.
Layout and original concepts © 2023 Neighbours Worldwide Fanpages.
Please get permission before using any items on other web sites.