Neighbours Newspaper and Magazine Articles
Evening News focus on the soap that's taking the world by storm
Everybody's Neighbours
Manchester Evening News Monday May 9, 1988
by Pete Anderson
---
EVERYBODY loves Neighbours, The Down Under soap hasn't just taken Britain by storm - it's sweeping the world. America, Africa, the Far East and several other countries in Europe all want to climb on the Ramsay Street bandwagon. It costs only £100,000 a week to produce - peanuts compared with the multi-million dollar American soaps, but it's beating them hands down. It's a far cry from the day when Aussie TV bosses axed the show six months after it started in 1985. But another channel snapped it up and the rest is a TV success story. Tonight your Evening News presents some of the stories behind the screen dramas of Neighbours...
---
A star's three loves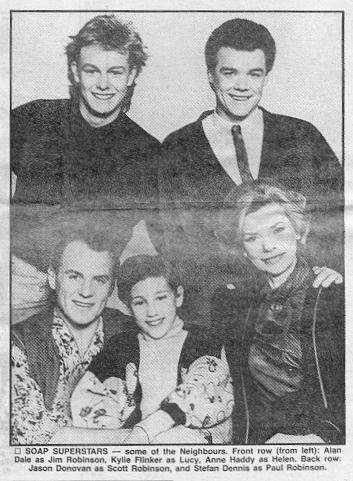 HE LOOKS every inch the macho heartthrob who was born to succeed. But Neighbours star Alan Dale, who plays Jim Robinson, confesses that it wasn't easy breaking into showbusiness.
"I'd always dreamed of becoming a movie star," explains the 39-year-old New Zealand-born actor. "But like so many kids, I left school with no special ambition and drifted in and out of several jobs.
"I married my girlfriend Claire, found myself with a couple of kids, and concentrated on earning enough to support my family.
"The best paying job I had was working as a car salesman. The money was good, but it was such a boring existence I decided to try something more challenging."
He still fancied acting but he did not have the nerve to attend any auditions. Instead, he went to college and studied law.
He went on: "Although I had some sort of maintenance grant, it wasn't enough to feed the four of us, so I began working my way through college as a milk roundsman. Despite what people imagine, I never had any flirtations with my lady customers. But when I was doing my round I heard something that changed the course of my life.
"I was listening on my radio to a disc jockey rabbiting on and on... he was making a proper idiot of himself. Suddenly, I realised I could do the job better than he ever could. So I turned my milk float around, drove to the radio station and insisted on meeting the programme's director.
"Quite a few customers missed their milk delivery that morning, because I was busy selling myself to that radio station. I was given an on-the-spot audition and, almost before I realised it, I was hired to fill in for the regular DJs. A couple of months later I was presenting New Zealand's most popular afternoon radio show on Auckland's top station."
Sadly, some nine years ago, Alan's marriage to his teenage sweetheart broke up. He went to Australia, and admits: "Again, I was lucky. I'd hardly had time to settle in before I won a leading role in The Young Doctors. That job lasted for three years, until Neighbours came along."
Since moving to Australia, Alan has discovered three new loves - a veteran Jaguar, motor-racing and a former Miss Australia, Tracy Person.
"It was my car that brought us together," smiles Alan, "because Tracy and myself were competing in a celebrity car race. She was fascinated by my Jaguar. I introduced them to one another and from that moment we got along great."
---
'I'm very lucky to be alive'
BLONDE, tanned and youthful looking, 59-year-old actress Anne Haddy was certainly an inspired choice as glamorous grandmother Helen Daniels. She is is one of Australia's most popular TV stars married to actor James Condon, and she says: "Between us we've appeared on practically every TV series ever made in this country.
"There's been Skippy, Flying Doctor, The Sullivans, Country Practice, Sons and Daughters,Young Doctors and, of course, Neighbours.
"One, if not both of us, have appeared in almost everything! James has also been in Neighbours as the handsome cad Douglas Blake, who cheated me out of about £50,000. It's always fun when we can work together.
"We're both sad he's been written out of Neighbours. Australian series never bring characters back from the grave."
Neither do Australian soap shows transform actors and actresses into superstars. "As far as anybody is concerned in this country, acting's just another job of work. I don't know anybody in television who's earning megabucks. In fact, one of our neighbours has a haulage company and pays his drivers more than I make!
"Of course, I'd love to make the sort of money somebody like Joan Collins pulls in. Yet I also think the sort of life Joan leads must be a real pain in the backside. I could never bother taking out my curlers, putting on make up and wrapping up in a mink coat, before popping out to the corner shop to buy a couple of steaks for supper.
"Thank God Australians keep showbusiness on very level terms. No matter how famous and popular we become, we're left to enjoy our private lives, too. We can go shopping, stroll along the street and enjoy a quiet drink in a bar, without being surrounded by minders."
There's no Jacuzzi, swimming pool, or servants, at Anne's comfortable and modest suburban home in Melbourne and that's the way she likes things.
"I've always believed it's totally necessary for actors and actresses not to cut themselves off from everyday life and ordinary people," she explains firmly. "Otherwise, you lose touch with real life."
Certainly, Anne's fan mall from Britain and Australasia shows that she's tremendously popular. Nobody could he more grateful for her fans.
Anne says: "I'm lucky to be alive and doing this job. I've never had a day's illness since I started with Neighbours, but I've certainly had more than my fair share of ill-health."
Some years ago, when she was appearing on another TV series, Anne had major abdominal surgery to remove cancerous tumours.
In 1979, she collapsed on stage in Sydney and was rushed to hospital, where she received an emergency quadruple heart bypass operation.
Five years later, when she starred in Sons and Daughters, she suffered more agonising chest pains and says: "I didn't expect to survive that time... Thank God, it wasn't a heart attack. It was a blocked artery but I still needed another operation."
---
So many big breaks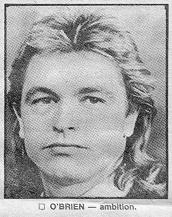 HANDSOME Neighbours star Peter O'Brien will be starring in panto at Stockport's Davenport Theatre at Christmas. But his ambition is to break into movies and TV in Hollywood.
"I'd be ideal as The Six Million Dollar Man," he grins. "Somebody recently described me as a medical miracle, because I smashed so many bones when I played Australian Rules Football."
It is one of the world's roughest, toughest, brawling ball games, which looks like a combination of Soccer, Rugby League and American football with a dash of grievous bodily harm.
"It is a tough game," says Peter, who stars as Shane Ramsay in the Australian soap, "and it sorts out the men from the boys. But there's a lot of skill involved too."
Peter played Australian football before becoming an actor which is just as well. For he suffered numerous injuries, including so many broken fingers that he lost count. He said: "I had a foot very badly crushed, both shoulders have been smashed, one extremely seriously, and I'd so much damage done to my eyes that I was worried I'd lose the sight in one of them.
"It's several years since I quit the game, but occasionally I still suffer twinges of pain in my foot and shoulder. In cold weather I get cramp in my fingers."
---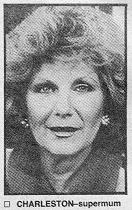 VIVACIOUS Anne Charleston, who plays Madge Mitchell, was delighted when she become Australian TV's Mother of the Year. The award was given for her performance in the soap, but she also deserves the title in real life.
After Anne's marriage to Australian entertainer David Ravenswood ended in divorce some 20 years ago, she became a single parent and looked after their son Nicholas, who's now 18.
Several years ago, Anne's cousin died and Anne adopted her daughter Emma. "She's 14 now," explains Anne, "and it's worked out very well, because Nicholas and Emma are just like brother and sister. They're very close and happy together. They're fantastic kids. I couldn't wish for better.
"Of course, I don't live like a nun," Anne says "I love being in love and enjoy a love life. I've also lived with a couple of guys since my divorce. There have been times when I've considered getting married again. But I've pulled back at the last minute."
---
STUNNINGLY sexy, sun-tanned, blue eyed and blonde, actress Elaine Smith may well look like every man's Australian dream girl but she's as Scottish as the heather on the hill.
Elaine, former stripper Daphne Clarke in Neighbours, said: "I was born in Largs, Ayrshire. It's funny, because most people think I'm 100 per cent Australian.
"I didn't settle in Australia until I was about 14, but I'd done a fair amount of travel before then. My father believes that travel broadens the mind, so he first took the family to Australia when I was only two years old.
"After a while he came back to Britain and we lived in Norwich, then went to South Africa before we finally settled in Perth, Western Australia."
Elaine studied literature and drama at university there and began working in theatre. "But it's a small city, so I moved to Melbourne.
"I did several TV shows there including Sons and Daughters before auditioning for Neighbours."
---
The long, long days of fame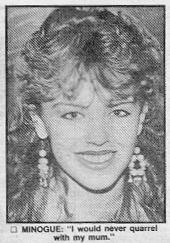 TOP of the pops and a soap sizzler, Kylie Minogue is fast becoming one of the world's most sensational entertainers. A petite blonde bombshell, Kylie plays the teenage tearaway Charlene and her record I Should Be So Lucky soared up the pop charts.
Yet despite being Australia's most successful young TV star, Kylie still lives at home with her parents. She says: "There probably is something of myself in Charlene, because she's quite a rebel. I would never quarrel with my mother the way Charlene does, but my fanmail shows that thousands of girls feel just as she does."
Many of Kylie's fans also want to break into showbusiness, but she warns: "It's a lot tougher than it appears. When I'm working on Neighbours, mother wakes me up every morning at about six o'clock and drags me off for a cold shower. Then I dash to the studio with the food bags that she's prepared for me. There's one for my breakfast, another for lunch couple for snacks.
"It's a drag, but I had my anorexia scare some time ago. I couldn't put on weight, but luckily the doctors told me I had nothing to worry about. I'm only five feet one inch tall and weigh about six-and-a-half stone. It's not bad for somebody who's constantly on the go. "However, I have been advised to follow a high energy diet to prevent serious weight loss."
Working on Neighbours is quite a slog. "I have to start work at 6.45am and I can still be working 12 hours later, five or six days a week. I usually get back home round about eight o'clock in the evening, and have a quick snooze in the car. After supper, I spend a couple of hours brushing up on my lines for the next day's work.
"There's a lot to he said for a nine-to-five job. I'm missing my social life and I've no girlfriends anymore because I haven't managed to keep up with them.
"The only consolation is that the work's there for me so I might as well get on with it. After all I could be written out next week or next month and I'd probably be a nobody again." That's a highly unlikely prediction, because Kylie's career has been going successfully ever since she made her showbusiness debut by accident.
"About ten years ago, mother was taking my sister Danielle to audition for a part in The Sullivans," she said. "I didn't want to go along because I'd arranged to go out with some pals. But mother couldn't get anybody to keep an eye on me, so she dragged me with her. I'm glad she did, because I landed the job instead of Danielle."
Fortunately, the sisters have remained the best pals. After The Sullivans, Kylie went back to school and left showbusiness. Since then she's made up for lost time. Her first record, The Locomotion, topped the Australian charts for eight weeks.
"I can't deny that I've been extremely lucky getting my first real job in such a popular show," says Kylie. "But I can't take success for granted. It's something that you have to work at."