Neighbours Newspaper and Magazine Articles
Neighbours you want to forget
The Diary by Carl Palmer
Manchester Evening News Thursday December 31, 1998
---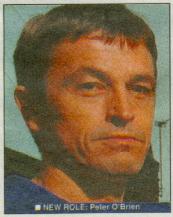 FORMER Aussie soap heart-throb Peter O'Brien - about to star in a new Manchester TV drama - claims he's erased all memory of his former life.
The free-spirited actor plays accountant Don Morton, who unwittingly becomes a key witness in a drugs trial, in BBC1's See How They Run.
Set in Manchester and Australia, the gripping children's series shows what happens when Don and his family are placed on a witness protection scheme.
Such nail-biting drama was obviously traumatic for ex Neighbours star Peter, who was mobbed by fans when he appeared in panto at Stockport. He tells me he now has no recollection of the Ramsay Street soap.
"I have no memory of it whatsoever: In fact, we were talking about this the other day and I couldn't even remember the name of the person played in it. I don't even know if they're still making it."
Back in the eighties, Peter shot to international fame as mechanic Shane and romanced co-star Elaine Smith - Daphne - on and off screen. The couple stopped the show when they appeared together in Mother Goose at the Davenport Theatre. Even then, he was trying hard to forget with a failed attempt to remove all reference to Neighbours from the huge sign outside the theatre.
Peter went on to become a Flying Doctor; starred in Cardiac Arrest and filmed projects in places as far apart as Chorley and China while backpacking his way around the world.
See How They Run, which starts on Tuesday, is a co-production financed by BBC TV and ABC in Australia, which O'Brien admits is pretty handy for him.
The Manchester family are given a new identity and are eventually forced to flee Down Under - in search of less threatening Neighbours. Perhaps the move will jog Peter's memory.