Neighbours Newspaper and Magazine Articles
Stars Who Came From The Street
By Selina Steele
TV SCENE, The Sunday Mail - May 10, 1998 (Brisbane)
---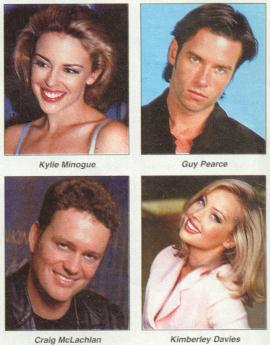 From Kylie Minogue to Kimberley Davies - Jan Russ has seen all the Neighbours stars come and go from Ramsay Street.
It was sole casting agent Jan who put Russell Crowe and Guy Pearce together in a very brief scene at Lassiters long before Hollywood followed suit with LA Confidential.
"I don't like to use the word 'star' because it's a very special word that's often misused, but there are actors who do have a quality that works."
Russ, who worked on Prisoner before Neighbours, has been with Grundy Television since the first episode of the soap hit our screens 14 years ago.
She was casting when Neighbours rated well over the 30 mark and when guards had to be employed on the set to maintain order among busloads of tourists.
"When Channel 7 first axed the show, the kids would walk around with black armbands, carrying a single red rose," Russ said.
"We then heard we could be going to another network and we got the call from Ten. It was after this the Kylie and Jason explosion hit.
"I don't think it'll ever be how it was, with actors from the show on every magazine and making News of the World, because nothing is the same second time around.
"But there's a lot more time left for actors to be discovered and for the show to last. I think we'll see a few more years yet."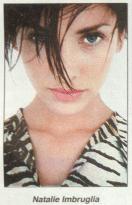 For all the big names who have worked their way through Ramsay Street - including Natalie Imbruglia, Craig McLachlan and Scott Michaelson - Russ has been disappointed by only a few.
"Neighbours has been an important vehicle for quite a number of young Australian performers and a lot still keep in contact with me.
"But there are a few who refuse to acknowledge Neighbours and that's some thing I don't understand. I don't want to name names, but they wouldn't have got to where they are without the show.
"You can't move backwards in life so I don't understand why they don't want to acknowledge a show which gave them a chance to grow."
Of all the actors hired, Russ said Guy Pearce was always going to be the one who would find long-term success.
"I've seen them all come and go but I always called Guy the dark horse.
"Even though Jason and Craig were more popular, I knew Guy would surprise people.
"He didn't go straight up the ladder of success but hung around the edges, working in theatre and learning his craft."
Weeknights 6.30pm Ten