Neighbours Newspaper and Magazine Articles
From Ramsay Street to Rocky Horror

Jason Donovan Star Interview by Lawrence Shaw

Lewisham & Catford News Shopper: Wednesday February 17th 1999
---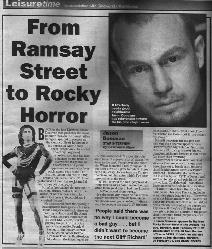 Back in the late Eighties, Jason Donovan was probably the most popular man on the planet. After being catapulted to success as the clean-cut Scott Robinson in the perennial Aussie soap opera, Neighbours, he scaled the dizzy heights of stardom and had his face splashed on the front of every teen magazine in the country. His public appearances reached a fever pitch rarely seen since The Beatles. Jason told me: "All my dreams had come true at 26. I had performed all over the world and I'd had a number one record."
But after he reached the pinnacle of stardom, things took a turn for the worse. "I went out on a limb for about four years. You could say I crashed the car."
He disappeared from the spotlight, having fallen from grace - but he's made a major comeback since appearing in Joseph And His Amazing Technicolour Dreamcoat in the West End. Jason, now 30, is playing the part of the outrageous transvestite, Frank N Furter, in The Rocky Horror Show, which comes to The Orchard Theatre, Dartford, on Monday on the latest leg of its UK tour. Jason said: "I enjoy the role and I haven't enjoyed a lot of things I've done in the past. Joseph was one example. When it started I really enjoyed it but after a while I grew to hate it. I like being in Rocky Horror because I'm not the clean cut character which I've been typecast as in the past.
"When I started the role, people said there was no way I could make the transition from good guy to bad guy. I like to think I've proved them wrong."
It's the good guy image he has strategically distanced himself from since Neighbours and pop startdom. "I didn't want to become the next Cliff Richard," he explains. "That's what a lot of people wanted me to do - but it just wasn't my scene."
He still performs his old pop hits - he's making a special appearance at Dartford's Zen nightclub on Saturday, February 27, to sing some of his old numbers, although he sees it as a bit of fun more than anything.
Away from musical and theatrical success, the movie world is one area Jason has yet to break into. His long-time Neighbours co-star Guy Pearce appeared - ironically, also in drag - in Priscilla, Queen Of The Desert, and went on to take a lead role in the celebrated L.A. Confidential - something Jason admits he finds hard to swallow.
"I admit it does hurt that Guy has done so well because I've wanted to be in movies since I started out. " However, he is not bitter and says he's indifferent about his recent criticism in the tabloid press. "I don't care what the papers say any more. If they're still interested enough to print my picture in the paper, then they must think people are still interested in me."
Jason Donovan appears in The New Rocky Horror Show in The Orchard Theatre, Dartford, from February 22 to 27. Tickets start at £14.50 from the box office on 01322 220000. He will also appear at Zen nightclub, Dartford, on February 27. Call 01322 222423.