Neighbours Newspaper and Magazine Articles
Detention Centre Inmates Are His Biggest Fans
Real-life bad boys were impressed by Todd's visit
The Weekly News February 14th 1998
---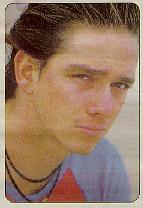 Ever since Darren Stark came out of the detention centre and headed straight for Ramsay Street in Neighbours, he's been desperately trying to go it straight.
But even though nice, normal Erinsborough isn't exactly a hotbed of criminal activity, he's still found it difficult to keep is nose clean.
Actor Todd MacDonald, 24, can understand his predicament. "When anything goes wrong, everyone assumes it's Darren's fault," he said.
"Once you've got a big sign saying 'trouble-maker' hanging round your neck, it's very hard not to live up to the image. It's as if everyonr is saying behind Darren's back, 'Well, what do you expect?'
Go straight
"Often, tearaways like him find it's a lot easier to go back to their old ways rather than reform. The odds are stacked against them."
Todd's learned a lot about bad boys since he's been playing Darren. As soon as he signed on to do the role, he embarked on some in-depth research by visiting a Melbourne detention centre and talking to young men who had been in trouble.
"I'm nothing like Darren - I'd certainly had nothing to do with the criminal element before, but going to the detention centre was an amazing experience," he said.
"Most of the inmates were only 18 or 19, yet they'd commited serious crimes like robbing petrol stations or committing assault with a deadly weapon.
"I met three guys in particular, two of whom were armed robbers and one who was in for assault.
"I don't condone what they'd done at all, but they seemed to reget past mistakes and were friendly and helpful. I think it was a bit of a thrill for them that I was going to use some of what they said to me in Neighbours.
"These blokes wanted to go straight when they got out, but were scared they might not be able to.
They reckoned they'd probably end up hanging round with the same crowd they got into trouble with in the first place. I've been able to put a lot of that fear into Darren.
Recognised
"Of course, in real life, someone like Darren would probably be a heavy drinker and a chain smoker, but you can't show that on Neighbours. Even so, I try to make him as dangerous as I can."
Since making his first appearance as tearaway Darren two years ago, Todd's won an army of female fans.
There's something about a bad lad that seems to appeal to women," he said. "I don't consider myself a celebrity or a star, but it's very warming to be recognised."
Some of his biggest supporters are among the inmates of that detention centre he visited. "I'm told most of the lads seldom miss an episode of Neighbours these days," he said.
"There's a certain amount of friendly rivalry as to which one of the inmates is most like Darren.
"I've had letters from one them asking me to name the guy who became my inspiration. But I've decided to let the mystery remain. It's more intriguing that way."
Todd might look like an all-Australian boy, but he's part Canadian. His ex-air hostess mum, Margaret, met his Canadian-born dad, Deryle, when he was working down under.
After marrying they moved to British Columbia, where Todd and his elder brother Paul, now 26, were born.
When I was seven my parents sold up and the whole family back-packed across Europe for six months, travelling by bus and pitching our tents at night," said Todd.
"It was a great adventure, but unfortunately, I was so young at the time I don't remember very much about it. We ended up settling in Queensland, where my mum comes from and where I grew up."
Good lesson
Todd's mum and dad are now potters, living on the Gold Coast. Paul runs a holiday hotel in the area. "I never have to think twice about where I'm going for my holidays," said Todd with a grin.
After spending four years at drama school, Todd got his career started with a handful of minor roles before landing a major role in the TV movie Sahara filmed near Sydney and starring American actor, Jim Belushi.
"Just before I got the role, acting work had been so hard to come by I'd been doing shifts behind a bar," said Todd.
"Sahara was my big break - great job, great cast, great money. Sadly when it was over, I was out of work again for months. It was a good lesson in what the acting profession is all about."
Todd's salvation came with the audition for Neighbours that led to the role of Darren.
"As soon as I heard they wanted me, I packed up my flat in Sydney, put my things on a roof-rack on my car, and drove the 600-odd miles to Melbourne, where Neighbours is filmed," he recalled.
Improved
At first, to achieve the right look for Darren, Todd washed his shoulder-length hair every day so that Neighbours' make-up artistes could then "grease it up" to give him a suitably unkempt appearance.
But as Darren's behaviour has slowly improved, so has his hair. "I think he's discovered shampoo," joked Todd.
"However, that doesn't mean he's turning into a good guy. There are more rocky moments in store for him. Besides, it's much more interesting playing someone with a bit of an edge than it is to be Mr Nice."
When he's not working, Todd can be found wandering round scrap metal yards looking for discarded iron.
"I'm an amateur welder," he said. "I make candelabras, furniture, decorative pieces. It's a very relaxing pastime. I think I must have inherited a feeling for arts and crafts from my parents."