Neighbours Newspaper and Magazine Articles
Irish Hideaway Is Anne's 'Escape' From Pressures of Showbiz

The Weekly News May 29th 1999
---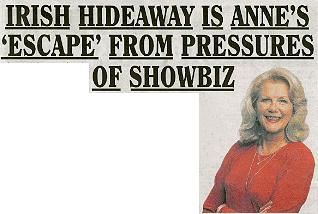 Visitors to the wilds of Western Ireland, who go off the beaten track in Galway, might be surprised to learn that the picturesque thatched cottage down one particular country lane is the home of a famous Neighbours star.
This is where Anne Charleston lives when she's not playing Madge, wife of Harold Bishop, and one of Erinsborough's long-term residents.
The view across emerald-green fields to distant mountains captured Anne's heart when she bought the isolated pink-washed cottage 11 years ago.
"I may not have any close neighbours there as I do in Ramsay Street, but I never get lonely," she said. "I have plenty of friends at the end of a telephone.
"And if I feel like some company, I can always have an evening out at the village pub, where I have lots of mates and where the restaurant is excellent."
Sorely missed
Grazing cows and drystone walls are certainly a far cry from the suburban life of Neighbours, but Anne loves her Irish home.
"I was born and brought up in Australia, but Ireland's where I belong," she said.
"My family's Irish and Ireland's in my bones."
Anne had left Neighbours and was happily ensconced in her Galway home two years ago when she got a call from Australia, inviting her to return to the series. Madge, she was told, had been sorely missed. Would she consider coming back?
Appearances in pantomimes and several plays in which she'd toured the UK had been keeping Anne busy.
But the offer to go back to work in Australia was too tempting to turn down.
"I love the show and it's been very good to me," said Anne. "But it does feel rather odd having to rent a place in Melbourne because your proper home is more than 12,000 miles away."
Security
Anne has a great rapport with her on-screen husband, played by Ian Smith.
"When we work together, we almost know what the other one is thinking," she said.
"Which is not to say that either of us is predictable in our acting.
"It's just that each of us knows the rhythms of the other person, which gives you a lovely feeling of security. You can spread your wings a little more and know the other one will catch you if you fall.
"But as to whether, like Madge, I could ever see myself as Mrs Harold Bishop, then the answer is definitely 'No!'.
"Harold's a kind man, but he leaps into things and doesn't carry them through.
"Frankly, I'd find him a bit of a marshmallow. Ian, of course, is very different."
Single mum Anne has strong views about marriage, believing it shouldn't be undertaken unless it's for life.
"There's no point in living in agony for years and then going through a divorce," she said. "Which is why, despite coming close a few times, I've never walked down the aisle."
Son Nicky, 29, is a stage technician at a London theatre. Anne chose not to marry Nicky's father - Australian actor-singer David Ravenswood - but they've remained close.
'I may have lost a husband but I gained a friend," she said.
"It seemed sensible not to marry at the time and I still think I made the right decision, even though I shocked some members of my family. I don't think I was brave - just sensible."
Born into a non-theatrical family and brought up in Melbourne, Anne believes she was bitten by the acting bug in her cradle.
Tired
But even though she'd had a successful acting career before Neighbours, nothing prepared her for the celebrity status she's achieved since.
"Playing Madge is extremely satisfying, but every so often, if you're feeling really tired, you feel like escaping," she said.
"That's when I long to be sitting in front of the fire in my little Galway cottage.
"And so far, the juggling act of working in Australia and living in Ireland is working quite well. I'm certainly not planning to give up on Madge just yet."