Neighbours Newspaper and Magazine Articles
Most Difficult Decision of Nicola's Life

Should She Quit Ramsay Street For Love?

The Weekly News June 5th 1999
---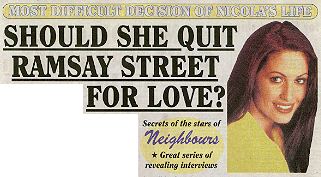 Neighbours star Nicola Charles faced the most difficult decision of her life.
She had fallen in love with London-based actor Jason Barry and he'd asked her to marry him.
But she also had nearly a year's contract with the hit soap to run, which would mean staying on in Melbourne for months to come.
Should she quit the role that made her a star to be at her man's side or finish the job she'd started?
It was a tough call, but it didn't take Nicola long to decide that Neighbours came first.
"I'm not a quitter," she said. "Neighbours has always been good to me and I didn't want to let them down. I decided to see my contract out.
"And, luckily, Jason understood. Being an actor too, he knows you have to be where the work is.
"So I'll go on playing Sarah Beaumont until at least September. And, of course, I'll be seen in UK episodes of Neighbours even longer than that because they run something like eight months behind the ones seen in Australia."
Nicola fell for Jason, who played Leonardo DiCaprio's shipboard buddy in Titanic, after they worked on the film Muggers together.
"Jason's the man I want to be with for the rest of my days," said Nicola. "He's really blown me away. He's one of the funniest, sexiest guys I've ever met.
"I've made a few mistakes with relationships in the past, but I'm really excited about Jason. All my friends are bored stiff because I can't stop telling them how wonderful he is."
Emotions
The film was made in Melbourne late last year and their romance developed quickly. "It was a crazy time," said Nicola.
"I'd work on Muggers until lunchtime and then go flying across town to be Sarah in the afternoon. At the same time, I was trying to cope with all the emotions that were going on with Jason."
Once the film was made, Jason took Nicola to meet his folks in Dublin last Christmas and while they were there, announced their engagement. Nicola now wears a beautiful baguette diamond ring.
"It was very romantic," she said. "We'd talked about the possibility of getting married, but it wasn't until the day after we arrived in Dublin, which happened to be my birthday, that Jason actually popped the question.
"I was laid up in bed with jet tag, feeling rotten in the middle of the day, and not looking my best - but Jason jumped on the bed, produced the ring and asked me to marry him.
"I said 'yes' straight away and then burst into tears because I was so happy."
Careers
But once the holiday was over, Nicola flew back to Australia to resume work on Neighbours and Jason went back to London, where he has filming commitments.
"I know it won't be easy being 12,000 miles apart, but we're going to try to make it work," said Nicola, who's 28.
"Jason's flying out to Australia to visit me as often as he can and I go over to see him in breaks from my work."
Now they're planning a wedding in the year 2000. Said Nicola, "We're both at really important times in our careers with a lot going on, so we'll have to wait until next year.
"We haven't set a date yet, but we do know it will be Dublin, with lots of family and friends from Ireland, England and Australia. We're very excited about it."
Worcestershire-born former model Nicola had already had a string of dreamboat lovers before she met Jason. Her first big romance was with Dan Travers, son of Born Free's Virginia McKenna and Bill Travers.
They got engaged and made plans for a wedding.
But out of the blue, Nicola dumped Dan to marry kick-boxing model Shaun Cochran 10 days after meeting him on a fashion shoot. Six weeks later, the marriage was over and Nicola went on to date other hunks, including actor Brad Pitt.
Five years ago, she fell for former Neighbours' hunk Scott Michaelson. He was the main reason she moved to Melbourne, where she's lived ever since.
Six kids
Scott's now moved out of the house they were buying together in an exclusive suburb and Nicola is buying out his half-share.
"I know I've been called a heartbreaker but it's not true," said Nicola. "My mother always taught me not to stay in a relationship if I wasn't happy.
"Now I don't have to worry about that any more. I've found the man I really love and my life's going to be changed forever. I intend having at least six kids. I'm very, very happy."