Neighbours Newspaper and Magazine Articles
Dan Travelled All Over World as Model
The Weekly News June 5th 1999
---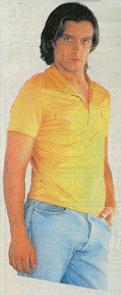 Dan Paris has packed so much into his 25 years he leaves you breathless.
He's picked strawberries for a living, delivered pizza, cleaned swimming pools and been a swimming coach. He also went to university and was an accountant before becoming a successful male model.
Now he's playing Drew Kirk in Neighbours and thoroughly enjoying every minute of his new acting career - but that doesn't mean Dan has settled down for good.
"I don't live to work, I work to live," he said. "I'll take on anything, and when I do, I do it 100%. But after a while, I feel like moving on to something else that's more fun and interesting.
Fantastic cruise
"For instance, with acting, I'd love to do a movie. But if that doesn't come along, I'm not going to cry about it. I could go travelling instead. Or I could just go to sleep for a year. Hey, that sounds pretty good, actually!"
Before Neighbours, Dan's biggest success was as a model.
"I'd been thinking about modelling for a while and then an agency scout saw me at a nightclub, which was virtually how it all started," he recalled.
"I was working as an accountant at the time, but that kind of went out the window. Besides, I didn't fancy wearing a suit and tie for the rest of my life.
"But the best thing about modelling was that it allowed me to travel round the world. For the best part of two years, I went all over the United States and South-East Asia, doing all sorts of odd jobs. But whenever I was really stuck for cash, I could just pick up a bit of modelling work."
Dan's travels were cut short, however when his dad died suddenly four years ago. The eldest of five, Dan saw it as his responsibility to come home and see the family through their shock and grief.
"My dad, who was an accountant, was only 48 so it was a terrible time for the family," said Dan. "I stayed at home for a year to make sure my mum was OK and then I took off again."
Dan's next stop was a job on a Malaysian-based cruise ship.
"It was a fantastic cruise and as one of several models on board, we only had to do about three hours work a week," he said. "I was paired up for photos with a model called Tanya Jenkyn, which was my lucky day."
That was three years ago. Dan and Tanya fell in love and are still together, sharing an apartment in a suburb of Melbourne. Tanya is now studying natural medicine.
Privacy
It was shortly after that romantic cruise that Dan and Tanya settled in Melbourne, where he toyed with the idea of going to drama college. But before he got the chance, he had an audition for Neighbours and was offered a long-term contract.
Dan's had to learn to cope with the sudden public recognition that's par for the course when you're in Neighbours.
"I've gone through three stages," he said. "For the first month, you're fascinated by the whole thing. Then you want a bit of privacy. I'm at the stage now of making it fun, of making a game of it. It's a great opportunity to meet a lot of different people."