Neighbours Newspaper and Magazine Articles
Missing Out on Triathlon Led to Soap Stardom!
The Weekly News June 12th 1999
---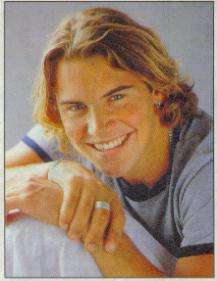 Daniel MacPherson may be a fairly recent arrival in Neighbours as Joel Samuels, but already he's one of the soap's most popular young stars.
He has film-star good looks, a sportsman's build and the sort of happy-go-lucky personality that leaps out on screen.
Yet if it hadn't been for a chance meeting, he might still be a complete unknown, with no thoughts at all of a career in acting.
Daniel's a triathlete, a sport that involves swimming, cycling and running. Less than two years ago, he was due to take part in a triathlon event in Sydney but a bout of glandular fever kept him on the sidelines.
"Really genuine"
"I'd just gone along to see my mates compete," explained Daniel.
"But this bloke came up to me and asked if I'd ever thought of modelling or acting.
"His name was Stephen Harmon and he said he managed a few stars.
"A few weeks later, he rang me and invited my mum and me into his office.
"He told my mum I had 'it' - whatever 'it' might be. He was really genuine and I thought, 'OK, let's give it a go'."
Stephen put Daniel through four months of acting classes and then came a string of auditions. But at first, no-one seemed to want him.
"It was right in the middle of my final year at high school and I decided the dream was over," he said.
"If I couldn't get a start in acting, then I'd just get a job in a shoe store or selling sports gear or something like that.
"But Steve said, 'What! You can't do that!' Then, a week later, he rang me up and said, 'Guess what? You've got two years on Neighbours!'
"I'd done the audition two months earlier and it had taken them that long to decide. I just couldn't believe it!
"The only acting I'd ever done before was to play Good King Wenceslas in a school play, a part that had no lines. So Neighbours were taking a real chance on me."
Soap success is certainly a vast change to the way he was regarded only a few years ago.
Girlfriend
Daniel recalled, "I was always being teased at school for being a fat kid. I'd go home in tears sometimes, but my parents just told me to stick it out.
"Then the weight started coming off from about the age of 13, when I started doing the triathlons, and now I back and laugh at it."
Since moving to Melbourne, Daniel has acquired a girlfriend, Tanya Neven, 22, who's a sales representative for a surfing products company.
"We met at the beach and she's great," said Daniel.