Neighbours Newspaper and Magazine Articles
Tragic Role Had Deep Impact on Andrew
The Weekly News June 19th 1999
---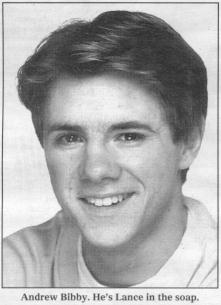 Young Neighbours actor Andrew Bibby has a simple ambition - he wants to be the next Mel Gibson!
That might sound a tad over-optimistic, but Andrew's not being big-headed. In fact, the more you talk to him, the more you realise what a modest chap he is.
It's just that he believes you might as well aim for the top and Mel Gibson is, after all, not only a huge star but a feet-on-the-ground, genuinely-nice family man as well.
"He's a great actor and definitely my idol," said Andrew. "Even if I could achieve a quarter of what he has, I'd be a happy man."
As Neighbours' Lance Wilkinson, brother to Anne (Brooke Satchwell) and son of Ruth (Ailsa Piper), Andrew, 18, is already making a name for himself.
Affluent
"I'm a pretty average sort of guy," he said. "I have a great family and I do all the usual things. I like lounging around, watching TV, playing with my dog, and hanging out with my brother, Daniel, who's three years younger than me.
"At weekends, I go roller-blading and do the usual amount of failing on my backside.
"I also do my fair share of washing-up, because Mum and Dad both work, so we all have to help out."
His mum's a child care worker, Dad's a draughtsman.
The family live in a comfortable home in an affluent Melbourne suburb that could easily double for Neighbours' Erinsborough.
"Funny, but true," he said. "All the neighbours in our street are pretty friendly, just as they are in Erinsborough. My gran lives just up the road, so we're always popping in and out of one another's houses. "I suppose the big difference is that we don't seem to have as many dramas in real life as they do in Ramsay Street.
"But the best thing of all is that we're only 20 minutes' drive from the Neighbours studio, which makes it very handy if ever I happen to sleep in on a work day."
Andrew's known he wanted to be an actor since the age of five, when he made his debut playing Joseph in a school nativity play. At 10, he acquired an agent and at 13, landed his first professional role.
He's appeared in other long-running Australian series, like A Country Practice and Blue Heelers. But before Neighbours, the role that stands out most in his mind was an education video about teenage suicide.
"It's a big problem, especially for young men." he said. "A lot of people assume it's more prevalent in street kids or drug addicts, but very often it's the teenagers from what you could describe as 'good' families who decide to take their own lives.
"It seems to happen out of the blue. As far as we know, the reason seems to be that some young people let all their problems build up inside them without talking to anyone else."
Ambition
Andrew enjoys keeping in shape. He spends an hour and a half every few days working out in his home gym as well as going surfing and body boarding.
He also sees a lot of his girlfriend Annette. "She's great," he said. "We've only been together for a few months, but we get on really well."
And how does he plan to further his ambition to be the next Mel Gibson?
"Well, I see Neighbours as a stepping stone to bigger and better things," he said. "I want to do theatre and film as well as learning more about acting itself.
"But that's not my only ambition," he added with a grin. "I'd also like to land a scene in The X-Files where I'd get to kiss Gillian Anderson. Now that would be a really great thing to achieve!"