Neighbours Newspaper and Magazine Articles
She'll Never Eat a Custard Pie Again
- after part that called for her to be clobbered by 17 of them!
The Weekly News June 19th 1999
---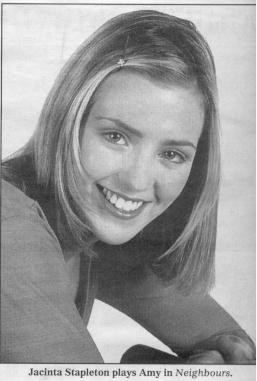 The worst moment of Jacinta Stapleton's acting career came three years ago when she was in a children's series called Genie From Down Under.
She had to look bright and cheerful while having 17 custard pies thrown at her. "Believe me, I'll never eat a custard pie again!" she said with a grin.
Luckily for soap fans, the experience didn't put her off acting. Jacinta may only be 19, but she's a "veteran" actress with 13 years experience behind her.
And for the last two years, she's played Amy in Neighbours.
Jacinta started at the age of six, when she and her brother joined an acting and modelling agency because it needed a couple more "fair-haired children" on its books.
"It was actually my aunt who got us into it," said Jacinta.
"She'd agreed to let my cousins join the agency and asked us if we'd like to be on television, too.
"My brother and I were too young to realise exactly what that meant. But we just said, 'OK, whatever'.
"And that's what we've both been doing ever since."
Jacinta's brother, Sullivan, now 21, has gone on to star in films. As for Jacinta herself, she's done theatre, TV series and films.
Barbie dolls
But she's unlikely to forget the first two years of her career which she spent largely doing commercials for everything from yoghurt, bread, lollipops, chocolate bars and hamburgers, to an advert for the Salvation Army.
"On a commercial for Barbie dolls, the make-up artist spent more time combing Barbie's hair than mine," she recalled.
The role that really got Jacinta noticed was at the age of eight when she did her first professional acting job, playing the lead in the film Boulevard Of Broken Dreams.
"I was this kid struggling to come to terms with the messy break-up of her parents' marriage," she said.
"It was a highly-emotional and dramatic film, but it was made even more so for me because the same thing was happening to me in real life."
Jacinta's mum, Jackie, a psychiatric nurse and dad, Ted, an insurance broker, had had a difficult marriage for the previous two years but their problems didn't culminate in divorce until the year Jacinta was making the film.
"In a way, that was a good thing," she said. "As an actor, even though I was just a kid, I had to be responsible and sensible. At work, you're treated like an adult, no matter how old you are.
Boyfriend
"But at the same time my emotions were in turmoil because of what was happening at home. So the acting gave me the leeway to express everything I was feeling that I couldn't or wouldn't express in real life."
Jacinta met her boyfriend, student film maker, Patrick Hughes, 21, four years ago when she was still at school and they've been going out ever since.
"He's my best friend," she said.
"But marriage is something we haven't even thought about. We're both far too young."