Neighbours - Episode 2710
Transmisson dates
Network Ten: 27/09/1996
BBC: 03/04/1997
UK Gold: 26/03/2003
Written by Sally Webb
Directed by Robert Meillon

Stonie is absolutely shattered by the news that Catherine is no longer interested in a relationship with him - forcing him to think again about his future in Erinsborough. Cheryl's had enough of fighting with her loved ones, while Darren can't stand seeing Libby so despondent and takes action - will she thank him for making such a bold decision on her behalf? Tragedy leaves the Stark family in a state of shock.
Guest stars
Catherine O'Brien: Radha Mitchell
Sarah Beaumont: Nicola Charles
Dahl: Trained by Jason Hura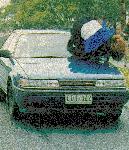 Available on the Neighbours: The Iconic Episodes Volume 2 DVD collection.