Neighbours - Episode 2721
Transmisson dates
Network Ten: 14/10/1996
BBC: 18/04/1997
UK Gold: 10/04/2003
Written by Xenia Michael
Directed by T. Grant Fenn

Phil finds himself in a compromising situation with Helen's physiotherapist Ruth, while Darren promises to give Lou a welcome home he won't forget. Catherine discovers Sarah's dark secret.
Guest stars
Sarah Beaumont: Nicola Charles
Ruth Wilkinson: Ailsa Piper
Brett Stark: Brett Blewitt
Catherine O'Brien: Radha Mitchell
Tony Farmer: Anthony Morton
Holly: Trained by Luke Hura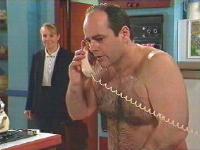 Notes: New opening titles. (Sarah added)
Lou Carpenter uncredited.
Angie and Stonefish gone from permanent cast.