Neighbours - Episode 2733
Transmisson dates
Network Ten: 30/10/1996
BBC: 06/05/1997
UK Gold: 28/04/2003
Written by Michael O'Rourke
Directed by Nicholas Bufalo

Darren has a confession to make to Libby. Marlene finds a new friend at her local op-shop who looks remarkably like Harold Bishop. Hannah is stunned when Casper reveals that he is moving to Queensland with his dad.
Guest stars
Harold Bishop: Ian Smith
Casper Mack: Adam Fiorentino
Holly: Trained by Luke Hura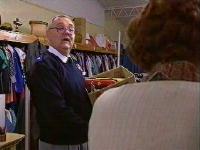 Available on the Neighbours: The Iconic Episodes Volume 2 DVD collection.