Neighbours - Episode 2965
Transmisson dates
Network Ten: 17/10/1997
BBC: 01/04/1998
UK Gold: 27/02/2004
Written by Ray Kolle
Directed by Chris Adshead

The Robinson/Ramsay feud continues. Lance is in trouble, but Toadie has got a plan. Ramsay Street loses a much-loved resident.
Guest stars
Amy Greenwood: Jacinta Stapleton
Cara: Siho Ellsmore
Jacinta: Caroline Morgan
Mitch: Simon Adler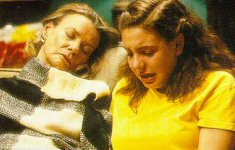 Music: 'Tease Me' by Paul Kelly

Final appearance of Anne Haddy as Helen Daniels. Sequence of stills from past episodes shown in place of credits.
Available on the Neighbours: Defining Moments DVD collection.