Neighbours - Episode 3670
Transmisson dates
Network Ten: 24/11/2000
BBC: 25/01/2001
UK Gold: 23/09/2005
Written by Lois Booton
Directed by Gary Conway

Flick and Joel's night together ends surprisingly well. Joe is faced with an emergency in his taxi. Tad is called to the hospital to begin the donor process.
Guest stars
Cheyenne Rivers: Angelique Meunier
Allana Truman: Josephine Clark
Tina Nguyen: Kim Nguyen
Larry Woodhouse: Andrew Curry
Special Guest Appearance by: "HUMAN NATURE"
Toby Allen, Phil Burton,
Andrew Tierney & Michael Tierney
Mick Scully:
uncredited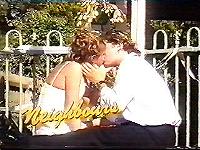 Note: This episode was originally scheduled as the 2000 Series Finale.
Available on the Neighbours: The Iconic Episodes Volume 2 DVD collection.