Neighbours - Episode 3671
Transmisson dates
Network Ten: 27/11/2000
BBC: 26/01/2001
UK Gold: 23/09/2005
Written by Ben Marshall
Directed by Tony Osicka

Joe helps a passenger through an emergency birth. Flick and Joel wonder where to go next after a moment of passion.
Guest stars
Darcy Tyler: Mark Raffety
Tina Nguyen: Kim Nguyen
Baby Nguyen: Joshua Ten
Special Guest Appearance by: "HUMAN NATURE"
Toby Allen, Phil Burton,
Andrew Tierney & Michael Tierney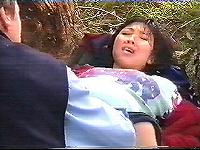 Note: This episode was originally scheduled as the 2001 Series Return.
Available on the Neighbours: The Iconic Episodes Volume 2 DVD collection.