A Guide to Neighbours Memorabilia - Records, Cassettes and CDs
'Suddenly' - Angry Anderson
Mushroom Records Pty Ltd. Aust. 1987 - K-363 (Australia)
Food For Thought Ltd/PAL Productions Ltd 1988 - YUM 113 (UK)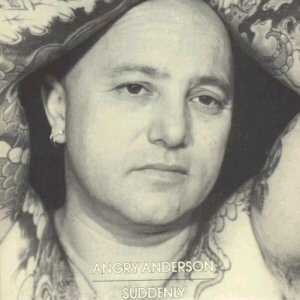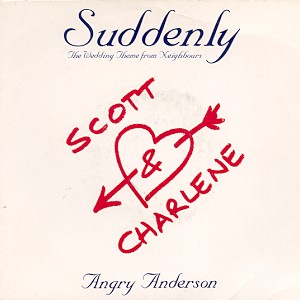 On 1st June 1987 a record number of Australians were glued to their television sets to watch the wedding of Scott Robinson and Charlene Mitchell played by teen heartthrobs Jason Donovan and Kylie Minogue. The ceremony in Neighbours episode 523 was accompanied by the song 'Suddenly' by folically-challenged rocker Angry Anderson. The song was released as a single and instantly became synonymous with the wedding of the year.
By the time the episode aired in the UK on 8th November 1988, Neighbours mania had reached its peak, and the song was released in Britain on the London-based Food For Thought label. In the weeks before Christmas it competed with Kylie and Jason's own chart-topping duet 'Especially For You/All I Wanna Do Is Make You Mine' and reached number three in the singles chart, giving Angry Anderson his only UK hit.
Side One: Suddenly (3:30)
Side Two: Falling (4:20)
(Anderson/Cichon/Beamish)
Published by All Boys Music Limited. Produced by Kevin Beamish.
Engineered by Alan Wright. Recorded at Rhinoceros Studios Sydney, Australia.
---
'Neighbours' - Barry Crocker
BBC Records 1987 - RESL 210
Legend has it that Jackie Trent got the idea for lyrics to this unmistakeable theme tune while ironing. There have even been stories of babies in their mothers' womb being able to recognise the Neighbours' theme!
Despite being released during the height of Neighbours popularity in the UK, this BBC Records single didn't reach the Top 75. A 12-inch version is also believed to exist - if you have one, please let me know the tracklisting.
Side One: Neighbours (Theme from the Grundy Television Production as seen on BBC-TV)
Side Two: Neighbours (Instrumental)
(Tony Hatch, Jackie Trent)
Sung by Barry Crocker. Produced & Arranged by Tony Hatch. Mr. & Mrs. Music/Dejamus.
Side A can be heard here... Real Audio 669Kb - 2 minutes 44 seconds.
---
Neighbours Theme (Episode 2001)
Mushroom Records International B.V. 1989 - MRI02
Despite the futuristic title, this isn't the theme for episode 2001 - that episode wasn't made until 1993. It isn't even the reworked Barry Crocker theme used from episode 1000 onwards. This 7-inch single contains a version of theme with new lyrics and sung by members of the Neighbours cast, including Mark Little who co-wrote the lyrics. The other side contains the more familiar lyrics.
Side A: Neighbours Theme (Episode 2001) (T. Hatch/J. Trent)
Words by M. Little/C. Farr. Produced by John Moses John for JMJ Productions. (M + M Music Ltd./Mushroom Music Ltd.)

Side AA: Neighbours Theme (T. Hatch/J. Trent)
Produced by John Moses John for JMJ Productions. (M + M Music Ltd.)
Note: I found this record in a charity shop inside the sleeve for RESL 210. However this single was available with its own sleeve design.
---
'In Your Arms' - Lynne Hamilton
Grundy Television Pty. Ltd./BMG Records (UK) Ltd. 1989 - PB 49295
Marketed as "The Love Song from Neighbours" this song was featured in the final episode of Henry Ramsay and at Kerry and Joe's wedding. Singer Lynne Hamilton is best known outside Australia for the Prisoner theme song 'On The Inside' which charted in the UK.
The sleeve shows the disc as being printed in England and distributed in in the UK, Germany and France.
Side A: Lynne Hamiltion - In Your Arms (The Love Song from 'Neighbours') (3.30)
Side B: Lynne Hamiltion & Peter Rice - In Your Arms (The Love Song from 'Neighbours') (3.30)
(Peter Pinne/Don Battye)
Arranged & Produced by Mike Harvey. Engineered by Glen Phimister. Recorded at Studio 301.
---
Christmas With Your Neighbours - The Cast
Fable Records 1989
FAB 793200 (Vinyl)/TCFAB 793200 (Cassette)/CDP 793200 (CD)
Millions of viewers around the world have been entertained by this talented cast on their television screens, now they present for you their selection of Christmas classics - songs that have become evergreens! We know you will enjoy this recording which will help you and your neighbours to spend an enjoyable Christmas.
If the cover photo doesn't give you nightmares first that is! This slightly cheesy collection of Christmas classics featuring the 1989 Neighbours cast was released in Australia, and also advertised in the colour suppliments to British Sunday newspapers as available by mail order. Interestingly Wendy Stapleton, who is given "special thanks" in the sleeve notes, went on to co-perform the fourth version of the Neighbours theme and played Trixie Tucker in 2003/4.
Tracklisting
Good King Wenceslas (2:30)
Hark The Herald Angels Sing
We Wish You A Merry Christmas
The Twelve Days Of Christmas (3:48)
Away In A Manger (1:48)
Rudolph The Red Nosed Reindeer (2:03)
I Saw Three Ships (2:02)
God Rest Ye Merry Gentlemen (3:09)
O Come All Ye Faithful (2:45)
Silent Night (2:30)
Santa Claus Is Coming To Town (1:52)
The First Noel (3:52)
Frosty The Snowman (2:24)
Jingle Bells
Ding Dong Merrily On High (2:00)
Joy To The World (1:24)
The Little Drummer Boy (2:46)
White Christmas (2:47)
Deck The Halls (1:00)
While Shepherds Watched (1:45)
Intro Spoken - Christmas Caring (3:58)
The Cast: Anne Charleston, Ian Smith, Stefan Dennis, Anne Haddy, Alan Dale, Annie Jones, Paul Keane, Jessica Muschamp, Mark Stevens, Rachel Friend, Kristian Schmid, Sally Jensen.
Special thanks to: Wendy Stapleton, Terry Dean, Gary Carruthers, Roger Hicks, John Grant, Lisa Edwards and Jessie Karam. Produced by Russell McKenna & Tony Naylor. A Rusty Nayles Production Recorded at The Production Workshop. Engineered by David Briggs.
---
'Flowers' - Janine Maunder
The theme song from the wedding of Sarah and Peter
Grundy Television Pty Limited 1999 - PTVCD501
Composed and arranged by Chris Pettifer and performed by Janine Maunder, this song was first heard in episode 3347 at the wedding ceremony of Sarah Beaumont and Peter Hannay.
After the episode was shown in the UK in September 1999, this one-track single was produced. It was made available to fans who visited the official website at www.neighbours.com through an arrangement with now-defunct online retailer Yalplay.com. The original price of the CD was £2.98.
We have no information on the number of discs produced, but as far as we are aware the recording was never available in the shops.
---
Neighbours: The Music
Columbia 2003 - 5100662000
(DVD Running Time: 36 mins total approx)
Following years of lobbying from Neighbours' fans and endless questions on whether the music from the show was available to buy, this combination CD and DVD package was produced in 2003.
The CD contains a mixture of songs by popular Australian artists that have been used on the show and some 'in house' tracks that are frequently heard. The DVD consists of songs by the various Neighbours' stars who have gone on to have recording careers, plus Holly Valance's appearance in Human Nature's 'He Don't Love You' video, and the promo video for Angry Anderson's 'Suddenly' which became famous after being used as the background for Scott and Charlene's wedding.
The same two-disc set is also available in DVD-style packaging.
CD:
Neighbours Theme - Janine Maunder
Born To Try - Delta Goodrem
Lie
Way Love's Supposed To Be - Selwyn
One Good Reason
Stop Callin' Me - Shakaya
Flowers - Janine Maunder
Three Dimensions - Something For Kate
What Now My Friend
He Don't Love You - Human Nature
Won't You Be
Takin' Back What's Mine - Leah Haywood
4 Your Love - Human Nature
Afterwords (You're So Right) - Endorphin
Miracle
Hard - Stella One Eleven
Sea Of Love
DVD:
Kiss Kiss - Holly Valance
Born To Try - Delta Goodrem
Locomotion (1987 Australian single version) - Kylie Minogue
He Don't Love You - Human Nature
Too Many Broken Hearts - Jason Donovan
Mona - Craig McLachlan and Check 1-2
Don't It Make You Feel Good - Stefan Dennis
Mad If You Don't - Gayle and Gillian Blakeney
Suddenly - Angry Anderson
Especially For You - Kylie Minogue and Jason Donovan